A beautiful prayer from the Armenian Saint Gregory Narek, recently named a Doctor of the Church by Pope Francis.
Eclectic Orthodoxy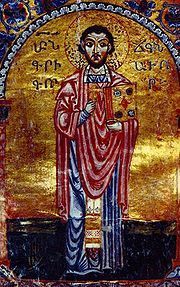 Grant me life, compassionate Lord.
Hear me, merciful Lord.
Be charitable to me, forgiving Lord.
Save me, long-suffering Lord.
Protect me, defender Lord.
Be generous, all-giving Lord.
Free me, all-powerful Lord.
Revive me, restoring Lord.
Raise me again, awe-inspiring Lord.
Enlighten me, heavenly Lord.
Cure me, omnipotent Lord.
Grant pardon, inscrutable Lord.
Bestow gifts, bountiful Lord.
Adorn me with grace, generous Lord.
Let us be reconciled, healing Lord.
Be accepting, unvengeful Lord.
Wipe away my transgressions, blessed Lord, so that on that Day of Misery, when I stare at the abyss on either side, I may also catch sight of your salvation, my hope and guardian, and on that terrifying journey your angel of peace may sweetly guide me.
Endow me, Lord, on the day my breath is finished
with a clean spirit raised in light among
the joyful heavenly host,
with gifts of your love overtaking me.
May I…
View original post 57 more words